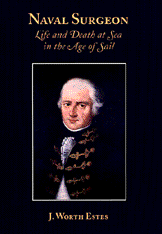 Naval Surgeon: Life and Death at Sea in the Age of Sail
Regular price
$39.95
$0.00
Unit price
per
Estes, J. Worth, 1998, xii + 266pp., Illus.

The serendipitous discovery of clinical records kept by the surgeon of the American frigate New York in 1802–1803 has opened a unique window onto the full impact of shipboard illness, and of its treatment, during the age of sail. Following family tradition, Peter St. Medard trained as a surgeon for the French merchant marine under the ancient regime. After six months in a British prison ship, he became an American and joined the war at sea during the revolution. Afterward he established a medical practice and began a family in Boston. At the end of the century he went to war against his homeland, now a republic, on the U.S.S. constitution.
In 1802, St. Medard went to sea again, this time in the now forgotten wars with the barbary states of North Africa. His clinical notes on the sixteen-month Mediterranean cruise of the U.S. frigate New York, along with his own journals and letters of his commanding officers and of midshipmen who accompanied him on his voyages, have permitted a detailed reconstruction of daily life at sea over a 25-year span, as seen and experienced by a doctor.
St Medard's record of his patients on the New York is especially valuable for its wealth of data about the disease burden on the wooden world of warships, from bad colds to dysentery to venereal disease, from bullet wounds suffered in combat and in duels to abortion, and especially, from an epidemic of scurvy, the seaman's greatest scourge.
But the greatest value of Dr. St. Medard's clinical register lies in its clues to why both doctors and patients were entirely satisfied with the medical practices of the time, practices now recognized as incapable of producing the results that are routinely expected of modern therapeutic practices, but nevertheless widely used in the eighteenth century.
" . . . Naval Surgeon is a well-designed, careful compilation of seventeen years of research and analysis and a number of serendipitous events. Through lucky contacts, Estes gained access to St. Medard's personal correspondence, his genealogy, and the biographies of other officers who served on the New York in the years 1802–1803. It would have been easy to welter in this vast fund of detail, statistics, and esoteric vocabulary, but, instead, the author, a master of elegant phrasing, produced a book that is extremely readable out of a desire to share his considerable knowledge." —William and Mary Quarterly
" . . . Well written and annotated, the book is a pleasure to read and much to be admired for its scholarship. The discovery of St. Medard's correspondence, clinical notes, and patient register throws open a window into the past and illuminates our medical heritage. Taking a scientific approach, Dr. Estes skillfully applies modern historical techniques to transform these fragments of information into objective data. As a result, Naval Surgeon elucidates an era of our history hitherto covered mostly anecdotally." —JAMA
"Visitors to the cockpit or sick bay of the U.S.S. Constitution ("Old Ironsides") in Boston have often wondered what went on in those dim, below-deck spaces. Now their curiosity can be satisfied by J. Worth Estes's cleverly documented book about life and death at sea at the beginning of the nineteenth century. Fans of maritime novelist Patrick O'Brian can read about how it really was. It was grim and stark, even when the ship was not in combat . . . If one can argue that the whole is often greater than the sum of its parts, this proves the point and will be applauded by its readers." —NEJM
---