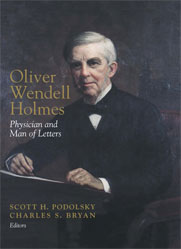 Oliver Wendell Holmes: Physician and Man of Letters
Regular price
$18.95
$0.00
Unit price
per
Podolsky, Scott H., and Charles S. Bryan, eds., 288pp., illus.

Oliver Wendell Holmes (1809–1894) spent parts of the nineteenth century as America's best-known physician and best-selling author. Sir William Osler praised him as "the most successful combination which the world has ever seen, of the physician and man of letters." Henry James, Sr., called him "intellectually the most alive man I ever knew."
Today, he is remembered as a physician for his investigation of the contagiousness of puerperal fever (well before the advent of the germ theory), for his advocacy for therapeutic skepticism and rationalism, and for coining such terms as anesthesia. He is celebrated as a literary and cultural figure for such poems as "Old Ironsides" (considered responsible for saving the U.S.S. Constitution), for his ground-breaking contributions to The Atlantic Monthly (which he named), and for terming Boston the Hub of the solar system and describing its "Brahmin" caste.
The present volume, celebrating the bicentennial of Holmes's birth, offers a fresh look at Holmes in both of his major (and often intermeshing) identities. Authorities dissect his essay on puerperal fever, his diatribes against homeopathy, his career as a therapeutic skeptic, and his significance as a writer who became the central figure of America's "Age of Conversation" and who prefigured the next generation's depth psychology and psychoanalysis.
This volume's centerpiece then consists of Holmes himself. The editors have arranged and annotated some 500 epigrams and excerpts from Holmes's medical and nonmedical writings in such a way as to present, perhaps for the first time, an accessible overview of Holmesian thought. Readers, whatever their areas of interest, will glean from this remarkable nineteenth-century polymath insights that remain thought-provoking and relevant today.
" . . . An excellent contribution to literary biography shelves, especially recommended for college library collections. 'We must not allow any creed or religion whatsoever to confiscate to its own private use and benefit the virtues which belong to our common humanity.'" —Library Bookwatch, 2009 (December)
"This is an inspired book, especially its first half. It caps a decade of work that restores the elder Oliver Wendell Holmes (1809–94), the poet laureate of the breakfast table, to the fame and acclaim he enjoyed in his own day . . . this well-conceived book will reward its readers with a broad view of medicine and culture in nineteenth-century America." —Bull. Hist. Med., 2011, 85
---