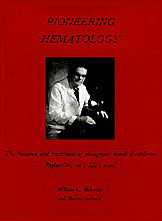 Pioneering Hematology: The Research and Treatment of Malignant Blood Disorders, Reflections on a Life's Work
Regular price
$24.95
$0.00
Unit price
per
Moloney, William C., and Sharon Johnson, 1997, xv + 196pp., illus.

William C. Moloney began practicing hematology long before it became a recognized medical specialty. Developing an interest in the disorders of the blood soon after graduating from Tufts Medical School in 1932, he spent the next six decades contributing to many of the advances that helped elevate the treatment and research of the diseases of the blood to the status of a separate field of medicine.
In Pioneering Hematology, Dr. Moloney draws upon letters and personal journals to give us a "behind the scenes" look at what hematology was like in its formative days. We travel with him in his old blue Dodge automobile to countless New England hospitals where be administered Rh tests and "Quick tests" and made bone marrow examinations in the years before World War II, during which he also established much needed blood banks throughout throughout the region. In those days, he carried his "lab" of testing materials with him, the entire contents of which fit into a cigar box held together by an elastic band.
Dr. Moloney's experience in blood banking proved an asset during World War II, when stored blood became an essential element in helping save the lives of innumerable servicemen. His recounting of his wartime service in England following D-Day reveals the injuries and pain that American personnel sustained.
In 1952 Dr. Moloney was appointed Director of the Hematology Division of the Atom Bomb Casualty Commission, established to assess the damage to health inflicted by the two atomic bombs dropped on Japan. The two years Dr. Moloney spent in Hiroshima researching the effects of radiation and its possible connection to the etiology of leukemia solidified his conviction that these dangers were greatly exaggerated. Dr. Moloney's expertise also brought him to the Marshall Islands in 1962–1963, eight years after the exploding of America's first hydrogen bomb there, where he assessed the effects of errant fallout on native populations.
As chief of labs at Boston City Hospital from 1954 to 1966, Moloney and his clinical fellow David Rosenthal were among the first to put together combinations of chemotherapeutic drugs—a protocol which remains the mainstay of cancer treatment today. And his work on behalf of the American Cancer Society and other organizations supporting cancer research gives us interesting insights into contemporary views on cancer and malignancies of the blood. On one occasion, he recalls with humor, he engaged in a shouting match over the desirability of giving a grant to fund cattle research in California or cat leukemia in Syracuse—a matter he refers to as making a choice between "cowbarns or cathouses."
Dr. Moloney spent his final years of practice as chief of hematology at Boston's Peter Bent Brigham Hospital, where he continued to carry on his bone marrow work and leukemia research. His experiences at this time provide us with a good summary of advances being made in treating childhood leukemia and of the problems that still remain in controlling the adult form of the disease.
"…a scrappy Boston kid of Irish extraction who made his way through Tufts medical school during the height of the depression. Though influenced by William Dameshek, he mainly studied hematology in the school of hard knocks. His is a fascinating autobiography: how he rose through the political machinations of Boston hospitals and medical schools, pioneering the use of several key hematologic tests in Boston, cared for D-day casualties in Britain, spent two years studying leukemia in Hiroshima survivors, later arranged for intensive leukemia chemotherapy facilities at the Brigham, and, all in all, carved out a remarkable academic and practice career."-NEJM
---