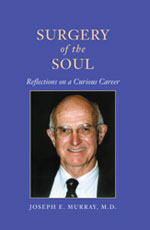 Surgery of the Soul: Reflections on a Curious Career
Regular price
$19.95
$0.00
Unit price
per
Murray, Joseph E., 2004, xxiv + 257pp., illustrated, revised ed., paperback. 2nd printing, minor revisions, 2012

This remarkable book is the autobiography of one of the 20th century's most honored surgeons, Joseph E. Murray, winner of the Nobel Prize in Physiology or Medicine in 1990. In it, Dr. Murray describes his role in breakthrough research in human organ transplantation and his pioneering advances in surgical techniques to correct deformities of the head and face caused by birth defects or terrible accidents.
This book tells not only the author's story, but also the stories of many of his patients. One such patient is a 22-year-old aviator names Charles Woods. During wartime runs in the Far East, Woods's plane caught fire, and in his attempt to escape, he was burned beyond recognition. His nose, eyelids, and ears were obliterated, and by the time Woods reached the States, he was barely alive. Over the next 2 years, Dr. Murray and the surgical team at a Pennsylvania military hospital performed 24 operations designed to build their brave patient a new face. Charles Woods survived and went on to a highly successful career, and to fly again.
Dr. Murray relates the story of another patient, Richard Herrick, whose kidneys were failing and whose life was saved when his twin brother, Ronald, agreed to donate one of his healthy kidneys and made possible the first successful kidney transplant. Throughout his career, Joseph Murray traveled to other countries to help clinicians deal with patients suffering from craniofacial and other deformities, such as patients in India whose hands had been disfigured by leprosy but who, after surgery, were able to use their hands to work as artisans and thus become self-sufficient.
Dr. Murray also introduces us to a highly intelligent boy, Ray McMillan, abandoned by his mother because of a birth deformity and placed in an institution for the mentally retarded. At age 21, Ray's grandmother rescued him from this senseless incarceration. Dr. Murray, who was able to correct Ray's facial deformity, encouraged the boy to write what was in his heart. To read what this "retarded" boy had to say, and about the joy he found in life, is to witness the transforming effect of Dr. Murray's care and skill in restoring not just bodies, but souls.
This book reveals the curiosity, tenacity, optimism, and humanity of a remarkable surgeon and scientist as well as the courage of his colleagues in their quest to understand the complexities of organ rejection despite discouraging setbacks. It also reflects the gratitude of the patients whose suffering Joseph Murray sought to relieve and to whom he has dedicated his life. It is a story about overcoming adversity and about healing—one that should fascinate any reader and that should leave no one unmoved.
About the author . . .

Joseph Edward Murray was born on April 1, 1919, in Milford, Massachusetts (a town 30 miles southwest of Boston), the third child and second son in his family. His father was a lawyer and district court judge, and his mother was a schoolteacher.
After graduating from high school, Murray attended the small liberal arts college, College of the Holy Cross, in Worcester, Massachusetts, where he studied Latin, Greek, philosophy, English, chemistry, physics, and biology. He received his MD degree from Harvard Medical School in 1943.
In 1944, Murray began his surgical training at the Peter Bent Brigham Hospital (now Brigham and Women's Hospital) in Boston. From 1944-1947 he served as a surgeon at the U.S. Army's Valley Forge General Hospital outside of Philadelphia. The hospital was a major plastic surgical center where battle casualties from World War II were treated. It was there that Murray became interested in the biology of tissue and organ transplantation and became adept in reconstructive and plastic surgery.
After his discharge, Murray returned to Peter Bent Brigham Hospital for additional training. From 1951 to 1986, he served as chief plastic surgeon at the Brigham. From 1972 to 1985, he was chief plastic surgeon at Children's Hospital Medical Center in Boston. Dr. Murray is a Fellow of the American College of Surgeons as well as an Honorary Fellow of the Royal Colleges of Surgery of England, Ireland, Edinburgh, Belgium, Canada, Australia, and Singapore.
During its 350th anniversary, the City of Boston honored Joseph Murray as one the 350 most outstanding citizens, representing the medical profession. In 1990, Dr. Murray was awarded the Nobel Prize in Physiology or Medicine.
Retired from surgery in 1987, Dr. Murray continued to play an active role in lecturing, writing, and consulting while enjoying time with his wife, Bobby, their six children, and their 15 grandchildren. A resident of Wellesley, Massachusetts, the Murrays spent their summers on Chappaquiddick Island, off the coast of Martha's Vineyard.
At the age of 93, on Monday, November 26th, 2012,  Dr. Joseph E. Murray died at Brigham and Women's Hospital, where, in 1954,  he performed his first transplant operation.
"Autobiographies by physicians are highly variable, like those by any other profession…Once in a while, one comes along that is just plain wonderful…Murray's book will strongly engage most surgeons, pleasantly inform other physicians, and richly educate the interested lay reader." – The Pharos
"This autobiography provides a historic account of the development of plastic and reconstructive surgery and transplant surgery. It offers a vista on the brilliant career of a Nobel laureate and a model for physicians of how to strike the difficult balance between clinical and laboratory science and between personal and professional life. Surgery of the Soul is a medical fairy tale well told." – JAMA
"…tell(s) the dramatic story of modern surgery since World War II, a very personal report which indeed might be of interest to physicians-young and old- as well as nurses and other health care personnel and, last but not least, patients as well as medical historians." – Gesnerus
---